You will receive an email with registered info from the Sidify after purchasing a license successfully. Then you can follow the steps to register Sidify All-In-One.
[1] Launch Sidify All-In-One on your PC or Mac and log in your account, and directly click on the Register button in the lower left corner.
[2] Copy and paste the registration Email and Code into the registration pop-up dialog, and click the "Register" button to confirm.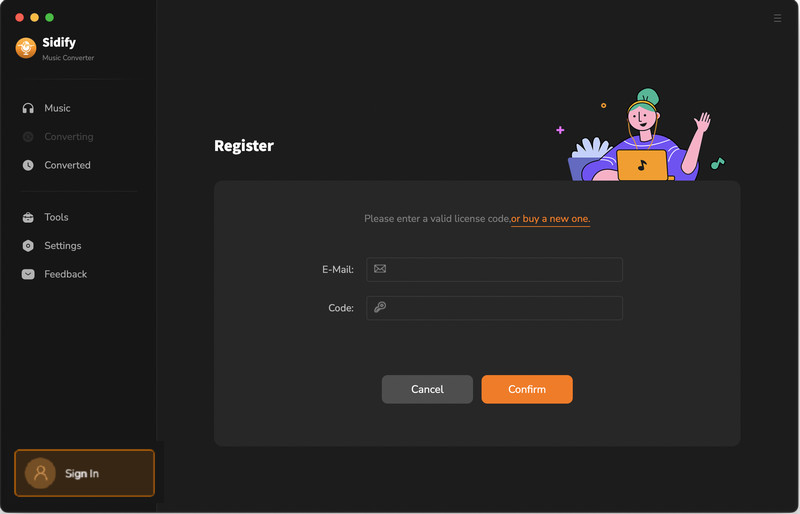 No, it's not applicable to register a license of the Windows version on a Mac computer and vice versa.
In the event that you accidentally purchase a license for the wrong operating system, you can go ahead to place a correct one and then contact us to arrange for a refund of your previous order within five days.
Sidify All-In-One offers a free trial. You can directly download it from our Download Center. The trial version allows you to convert the first minute of each song for sample testing. If you are satisfied with the program, you can then go buy a license.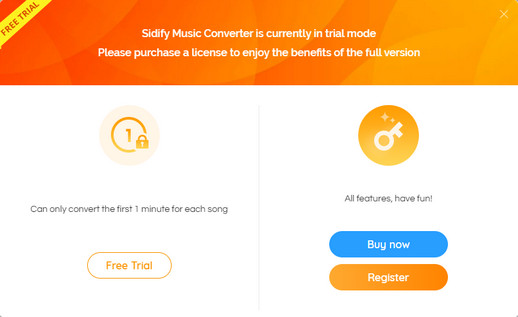 [1] Ensure that you have registered for the appropriate program version, as the Windows and Mac versions do not share registration codes.
[2] The registration code is case sensitive. Also, please do not any spaces before or after the registration info.
[3] Each license is limited to one computer only. Any attempt to use the registration code on more than one computer will result in an invalid status.
If you continute getting error messages, please contact our support team via support@sidify.com for further assistance.
[1] Please ensure that your license is still valid. If it is still within the validity period, kindly register it again.
[2] Please note that each Sidify All-In-One license is valid for a single computer only. If you use your code on more than one computer, it will appear as a trial version.
[3] If you have recently updated your computer system, the registration information may have been erased. Therefore, please register with your license once again.
If the error message persists, kindly contact our support team at support@sidify.com for further assistance.
No. One license is for one computer only. Using the license on more than one device simultaneously will render the license invalid.
If you need to transfer the license from one computer to another, please contact our customer service team via email (support@sidify.com) for assistance. If you require use of Sidify All-In-One on multiple devices simultaneously, we recommend you purchasing an additional license. We also offer exclusive discounts to returning customers, so feel free to contact us for further information.
Please contact our support team(support@sidify.com) and provide your order info, such as email, receipt, order number and other information you can remember.
We have a responsibility to keep your information secure. Sidify All-In-One has a privacy policy in place and does not share your information with third-party advertisers without your consent.
Multiple different streaming platforms are supportive in the Sidify All-In-One Converter. Mainly including:

Music Services: Spotify, Apple Music, Amazon Music, Tidal, Deezer, YouTube, Pandora and Line Music

Audiobooks: Audible AA/AAX audiobooks

Websites: YouTube, SoundCloud, Dailymotion, Vimeo, Veoh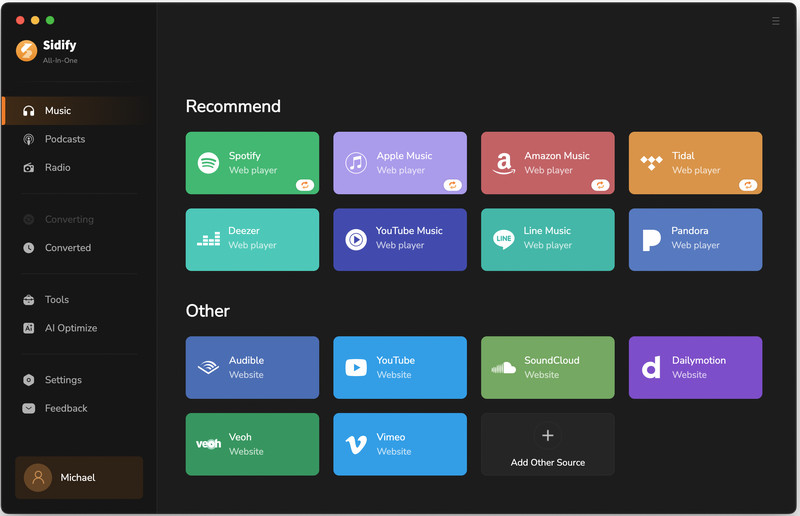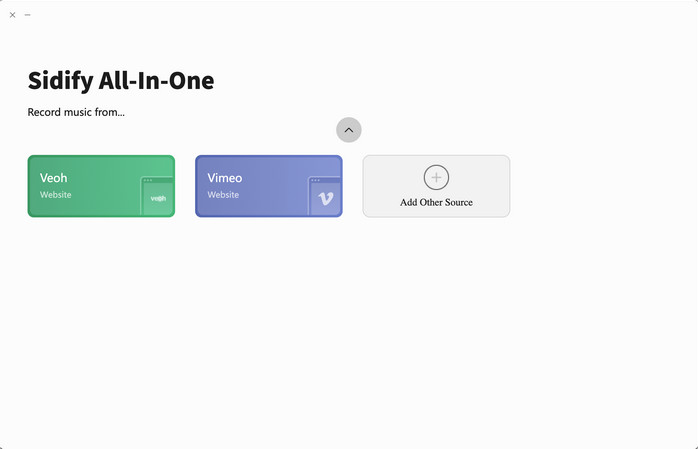 Languages currently supported by the Sidify All-In-One family of programs include: Arabic, Czech, Danish, Dutch, English, French, Indonesian, Georgian, German, Greek, Chinese, Norwegian, Italian, Japanese, Portuguese, Hebrew, Turkish, Spanish, Filipino, Hungarian, Malay, Hindi, Finnish, Zulu, Brazilian, etc. More languages will be supported in the future.